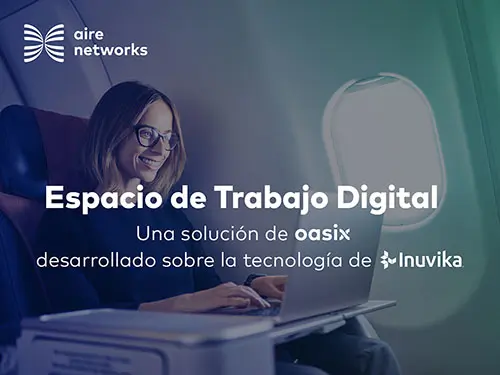 We're very pleased to introduce Inuvika's newest hosted services partner, Aire Networks.  Aire Networks is Spain's leading telecommunications operator with a fiber optic and radio network covering 90% of the Spanish territory.
Aire Network's first Inuvika offering is the Digital Workspace solution by their Oasix cloud and data center division.  The Oasix solution delivers Windows and Linux applications-as-a-service, and it's powered by Inuvika OVD Enterprise.
Learn more about Aire Network's innovative work-from-anywhere solution.
Read the official Aire Networks News Release at https://www.airenetworks.es/noticias/oasix-la-division-de-cloud-y-datacenter-de-aire-networks-cuenta-con-inuvika-como-partner.html
(English Translation Follows)
Oasix, la división de cloud y datacenter de Aire Networks, cuenta con Inuvika como partner
Las mejores soluciones tecnológicas se desarrollan gracias a alianzas con grandes partners. Y en la búsqueda de los mejores aliados para ofrecer los mejores servicios, Oasix, la división de cloud y datacenter de Aire Networks, ha seleccionado a la canadiense Inuvika y su tecnología de virtualización de aplicaciones. Ambas compañías están perfectamente alineadas en ofrecer a los clientes un servicio diferencial en el que la experiencia de usuario sea mucho mejor de lo que pueden ofrecer otras empresas en el mercado. Tanto Oasix como Inuvika están asimismo muy focalizadas en proporcionar estas soluciones tecnológicas de forma que sean fáciles de instalar y de usar, rompiendo las barreras tradicionales de este tipo de servicios.
Concretamente, la solución Espacio de Trabajo Digital, diseñada para facilitar el trabajo en remoto de las empresas, se desarrolla sobre la tecnología de Inuvika.  Este servicio ofrece una nueva dimensión para trabajar donde y cuando quieras, diseñada para ofrecer la mejor experiencia de usuario. Permite el acceso desde cualquier dispositivo y lugar a documentos y aplicaciones Windows y Linux de forma 100% segura. Y, además, con un modelo de pago por uso real, sin alta, sin permanencia y sin inversión.
Sobre Oasix
OasIX, división de Cloud y Centros de Datos de Aire Networks, ofrece a empresas y organismos públicos herramientas eficaces para acometer su transformación digital a través de soluciones Cloud, Multi-cloud y Centros de Datos. Ponemos a disposición de nuestros clientes servicios fáciles de implementar y disponibles para consumir en la modalidad "as a service", sin depender de grandes inversiones y completamente escalables. Siempre con soporte especializado 24/7.
Todo ello prestando especial atención a la seguridad y al cumplimiento normativo, aspecto en el que también somos diferenciales por nuestra alta exigencia y compromiso. Hemos establecido los mecanismos para poder ofrecer entornos de trabajo 100% seguros.
Sobre Inuvika
Todo lo que necesitas para virtualizar tus aplicaciones
Inuvika es una compañía con sede en Toronto, Canadá y cuenta con un departamento de desarrollo en Francia. Su solución, OVD Enterprise, permite a las organizaciones servir aplicaciones Linux y Windows en cualquier dispositivo evitando los elevados costes y complejidad del VDI, entre otras soluciones.
OVD sirve aplicaciones y escritorios a través de nube pública o privada. Su despliegue y gestión es sencilla y proporciona una experiencia de usuario excepcional. Los usuarios pueden acceder a aplicaciones en Windows, Linux o escritorios macOS, dispositivos móviles Android e IOS, Chromebook, Raspbeery Pi y otros thin client o cualquier navegador HTML5.
Inuvika está disponible on premise o en modalidad como servicio a través de más de 70 partners en más de 40 países.
EN:
Oasix, Aire Networks' cloud and datacenter division, has Inuvika as a partner
The best technology solutions are developed thanks to alliances with large partners. And in search of the best partners that offer the best services, Oasix, Aire Networks' cloud and datacenter division, has selected Canada's Inuvika and its application virtualization technology OVD Enterprise. Both companies are perfectly aligned to offer customers a differentiated service with a better user experience that other companies in the market cannot match. Both  Oasix and  Inuvika focus on providing easy-to-install and use solutions, breaking traditional barriers to these types of services.
Oasix's Digital Workspace solution is designed to address all types of companies' remote work requirements and was developed using Inuvika technology.  This service offers a new dimension to work-from-anywhere and anytime solutions with an excellent user experience. The solution enables access to Windows and Linux applications and documents in a 100% secure and reliable way. In addition, Oasix offers a pay-as-you-go model, without the need for high up-front investment costs.
About Oasix
Oasix, a division of Cloud and Data Centers at Aire Networks,  provides companies and public bodies with useful tools to undertake their digital transformation through Cloud, Multi-cloud, and Data Center solutions. We provide our clients with services that are easy to implement and are available to consume in the "as a service" model.  Our services are fully scalable, do not require large investments, and are backed by our specialized 24-7 support.
Our commitment and attention to safety and regulatory compliance also differentiates us and allows us to offer 100% safe working environments.
About Inuvika
We make app virtualization easy!
Inuvika is headquartered in Toronto, Canada, with a development team in France. Our solution, OVD Enterprise, enables organizations to quickly deliver virtualized Linux and Windows applications to any device, without the cost and complexity of VDI and other solutions.
OVD delivers apps and desktops through private or public clouds, is easy to deploy and manage, and provides an exceptional user experience. Users can access apps on Windows, Linux, or macOS desktops; iOS and Android mobile devices; Chromebook; Raspberry Pi and other thin clients; or any HTML5 browser.
Inuvika is available as an on-premise solution or as-a-service from more than 70 partners in over 40 countries.