Android is Serious Business
Android OS has come a long way from its first major release as a mobile phone OS in 2007. Today, about two billion people use some form of Android device, including phones, tablets and other embedded devices.
One of the more interesting and recent developments is the ability for Chromebook devices to run Android apps, which opens up Google's cloud-based Chrome OS to an enormous library of apps.  It also provides a new desktop form factor option for running Android apps.  According to the Chromium Projects page, 75 Chrome OS devices currently run Android apps, with many more planned for release.
With the growing popularity of BYOD programs in many schools and businesses, the potential for Chromebook adoption in enterprise is greater than ever before. So, is Android an attractive thin client alternative for business?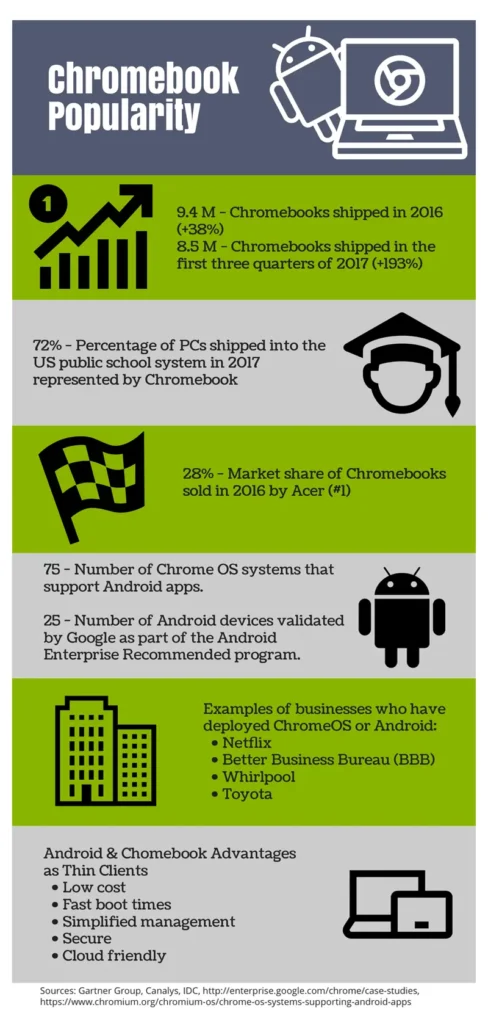 Overcoming the Windows Application Challenge
The case for deploying Chromebook and Android devices as alternatives to traditional thin clients is compelling.  They are fast, secure, low-cost, offer exceptional mobility and are easy to manage.  More businesses are adding them to their IT mix, and that trend will likely continue.
However, while the Android application ecosystem is robust, many organizations still depend on business critical applications that are built to run on Microsoft Windows. How can you overcome that barrier?  The solution is application virtualization.
Use Virtualized Windows Apps On Your Chromebook
A virtualized application delivery solution, like Inuvika's OVD Enterprise, offers organizations a way to leverage the benefits of Chromebook and Android, while still maintaining access to your enterprise applications.
OVD Enterprise delivers virtualized Windows and Linux apps and shared desktops to Chromebook and Android devices through a native client or HTML 5 Web browser.  OVD deploys on-site, or on leading cloud platforms like Google Cloud Platform and Microsoft Azure.
It is also easy to manage and offers a rich user experience, including fast session login times, quick app launches, and print redirection support.
Best of all, Inuvika OVD Enterprise is half the cost of traditional solutions from Citrix and VMware.
---
Try OVD for Free
Experience it for yourself.
Request a free trial
 of OVD Enterprise and download the Enterprise Mobile Client for Android from
Google Play
today.  You'll love your new Android thin client!
Related Stories