The tremendously popular ARM-based Raspberry Pi computer is a low-cost device that is about the size of a deck of playing cards.  It comes in various configurations (e.g., RAM, ports, and processor power) as both a bare card and finished product from vendors like ClearCube.  However, what initially began as an exciting hobby project is now turning out to be a useful business tool.
With an average TCO* for PC laptops in the thousands of dollars over a lifetime, businesses are reconsidering their options when it comes to PCs.  A more recent trend is the use of Raspberry Pi and other thin client-like devices, such as Chromebook, to access Windows desktops and applications.
While the Raspberry Pi's architecture prevents it from running a full Windows desktop natively, it can enable it another way.  The device has more than enough power and functionality to access virtualized Windows desktops and applications with the help of remoting protocols like Microsoft RDP.
Users log into a service, like Inuvika's OVD Enterprise, that brokers sessions and delivers Windows desktop and applications from servers running in a cloud data center.  All of the applications, desktop functions, and processing of data takes place within the data center.  Meanwhile, the servers continually deliver live screen "images" to users on Raspberry Pi.
From a user perspective, the experience looks and feels virtually identical to a traditional PC.  However, no applications, or the actual desktop, install or run locally on the user devices themselves.  You can even configure the Windows desktop interface to present in full-screen mode, further enhancing the user experience.
The Case for Raspberry Pi and App Virtualization
The cost advantage compared to traditional laptops is clear.  Raspberry Pi devices cost as little as $50.  A basic business-class version could cost $120 – $200 but varies significantly by vendor.   Even at that price, defective devices can easily be replaced, rather than repaired.
Raspberry Pi is an excellent PC alternative in education.  For example, PCs in shared student labs can be replaced with low-cost thin clients and a virtualization solution like OVD Enterprise.  In addition to the cost savings, organizations benefit from enhanced data security since all of the data can be locked down and prevented from being downloaded or possibly stolen.
Other examples include shared work terminals within a hospital or customer service environment.  Rather than using assigned laptops, mobile staff can connect to remote desktop sessions on shared Raspberry Pi workstations.  Once their work is complete, they log out and move on.
Management
Raspberry Pi devices can also have a significant cost of management advantage. Inuvika works with Stratodesk, a leading endpoint OS solution provider.  Their OS and management solution, NoTouch Desktop, transforms any device into a powerful thin client.  The NoTouch Center management console automates set-up and ongoing maintenance of thin clients from a centralized location.  It saves valuable IT labor resources and makes the roll-out of multiple devices easy and scalable.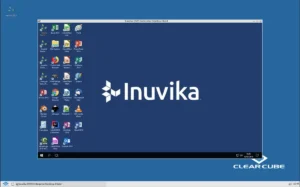 OVD Enterprise Ready
Inuvika's Enterprise Desktop Client (EDC) comes preinstalled on NoTouch OS. The EDC lets users access Windows desktops and applications on Raspberry Pi and delivers a fast and fluid user experience.   Businesses are required to purchase OVD Enterprise either as an on-premise solution, or cloud-based service through one of Inuvika's Global Partners.  However, OVD Enterprise is also half the cost of competing solutions from Citrix or VMware, providing additional cost savings per user.  Many Inuvika partners also offer thin client devices like ClearCube and can provide one-stop integrated services.
Interested in Learning More?
To explore a virtualized application and desktop solution from Inuvika, contact us and request a Free Trial of OVD Enterprise.
About Inuvika and Stratodesk  Learn more >
Stratodesk NoTouch OS  Learn more >
ClearCube Raspberry Pi devices use Stratodesk's NoTouch OS and NoTouch Center management software  Learn more >
*Using Total Cost of Ownership to Determine Optimal PC Refresh Lifecycles – Wipro Consulting Service Product Strategy and Architecture Practice / Intel Corporation, January 2010